Penny Key, Director
Licensed Marriage and Family Therapist
Pronouns: She, Her, Hers
"Just seeing the relief on a student's face when they know they have a path forward is priceless. This is why I love working in Case Management."
 
Penny Key joined UCR as the lead case manager in October 2014 and became director of Student Affairs Case Management in January 2018. She has her master's in counseling psychology from Pacifica Graduate Institute, and is a licensed marriage and family therapist with 13 years of experience, including five years as a college counselor. Penny is well-versed in the stressors college students face, both emotionally and academically, and is devoted to helping students find positive, productive solutions.
Before coming to UCR, Penny was the head of the general education department at The Art Institute of California, Los Angeles, and program coordinator for the humanities and social sciences department. She also served on the faculty, teaching courses in psychology and ethics. Prior to her career in higher education, Penny worked in the entertainment industry in the areas of film production and talent representation.
Interesting Facts About Penny: Penny's favorite color is green and she loves anything related to Harry Potter. She's a quilter and practices self-care by quilting, walking and reading (not at the same time!). Her influences are Carl Jung, David Whyte, Joseph Campbell and third-grade jokes.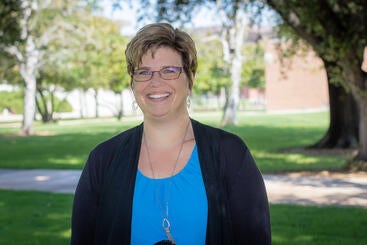 Laurie Lee, Case Manager
Licensed Marriage and Family Therapist
Pronouns: She, Her, Hers
Laurie Lee started working part time at UCR in November 2015 as a case manager, and in April 2016 was invited to join the Case Management team full time. Laurie graduated from UCR in 1991 with a bachelor's degree in liberal studies with an emphasis on psychology/education. In 1994, she received a master's degree in marriage and family counseling from the University of La Verne. Laurie has been a licensed marriage and family therapist since 1997 and has more than 20 years of clinical experience in providing therapy to children/teens, young adults, couples and families. 
 
Her background is working in community mental health agencies providing therapy to children in elementary, intermediate and high schools. In addition, Laurie coordinated a school-based counseling program while supervising and training MFT interns/trainees. Laurie was also a social worker for a foster care agency where she worked with children and teens in the foster care system, taught parenting classes, and helped open a community mental health clinic as a supervising coordinator.
Laurie stepped away from her 11-year private practice to concentrate on working with UCR students as a case manager. She is excited about the opportunity to provide students with support in achieving their goals of academic success, and in aiding them in developing healthy solutions.
Interesting Facts About Laurie: Laurie's self-care activities are going to the LA Kings or Ontario Reign hockey games with her family, going on scrapbook weekends with her friends, reading (from Jane Austin to The Walking Dead), coloring/painting/drawing and photography. Her current passion is learning and practicing art therapy techniques.